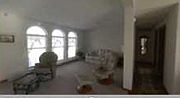 VR4 Technology Releases Cutting Edge Virtual Tour Software That Allows Users to Easily Create 3D Worlds Based on Real Locations.
(PRWEB) March, 2005

-
VR4 Technology
released their 3D Motion VR software for sale to the public on their website today. With the 3D Motion VR software package, virtual tour companies are now able to model an entire space into a single virtual tour. The software creates a 3D world based on multiple standard
panoramic
photographs, and then allows visitors to a website to navigate freely through the 3D world virtual tour.The intent.........................Read More!
(Source: PRWeb)
(Tag:
News
.
3d
.
Animation
.
Virtual Reality
)